Our Apples
Our Customers tell us we have the best apples on the planet!
This year we have a bumper crop of apples!  The apples are beautiful.  
In September, we start with Honeycrisp, Gingergold, MacIntosh, and Royal Gala.  After that, we will have Ambrosia, Jonagold, Macoun, Mutsu, Cortland, Golden Russet, Spartan, Snow, Red and Golden Delicious.
In response to our customers' requests, we have re-introduced historic heritage apples such as Northern Spy, Snow, Spartan, Wealthy and Cox Orange Pippin.
Our Apple Prices
Our prices for apples are higher than the prices of apples in the Supermarket.
At this time, the price of pick-your own apples is $5.00 per pound.  The price of pre-picked apples is $6.00 per pound.
Minimum Purchase of Pick Your Own Apples
If you enter the orchard, there is a minimum amount of apples that you must purchase. The minimum amount is $10.00 per person (this includes children). For example, a group of 5 people must purchase $50.00 of apples. There is no minimum purchase if you buy pre-picked apples for sale at the fruitstand.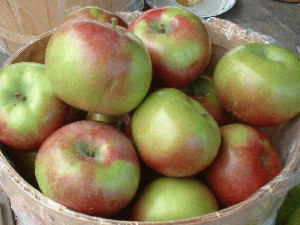 The apples taste wonderful and all of our apple varieties are eating apples.
For Baking We Recommend
Macoun
Mutsu
Cortland
For Applesauce We Recommend
MacIntosh
Macoun
Mutsu
Come and pick some apples soon
before they're picked out!